Although almost always attract attention within the world most comprehensive tech gadgets, those that allow us to access either the TV or listen to music from the internet, or navigating in an innovative way in the network, it is certain that all of them would be nothing, or at least would not be all that are present.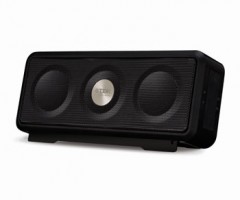 And precisely for this reason, and because we usually tend to stay with Christmas as a time to bet on them as gifts, then we will try one of them; TDK Wireless Weatherproof, a speaker which is not afraid of water.
The TDK Wireless Weatherproof but does not have too flashy design, if that is presented as something practical and continues the scale of most similar devices that are on the market. At the end of the day already incorporates innovation as the possibility of takeaway under water, with what seems to have wanted to stay there as a "novelty" and maintain the line for not always change so many things.
In terms of technical features, it is noteworthy that in TDK Wireless Weatherproof found a audio input for connecting any 3.5 mm audio source, whether fixed or portable, such as computers, tablets or mobile. Inside, there are two 1.5-inch speakers and a 2.5-inch subwoofer. Together complete the team two rear 3-inch passive radiators.
The price of this accessory TDK Wireless Weatherproof that promises know almost swimming is 199 euros and is already on the market.