Portable hard drives are one of the most common accessories today. We have not used to having a huge storage capacity in very little space. So little that we can get into the pocket 1TB of information. The Toshiba STOR.E PARTNER want to give a touch of color to a very useful peripheral, but a little bland.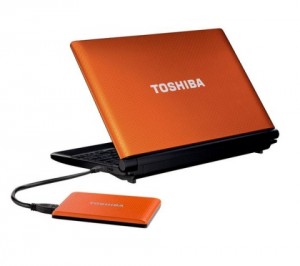 The key to this model is the design, without renouncing to the latest technology. This section has a quick connect USB 3.0. This is the latest version of this popular connection. It has a theoretical maximum transfer rate of 5 Gbits per second.
However, what is striking about this product is its unique design. It is available in four different colors, black, orange, lime green and blue. It features a rugged touch rubber that provides a non-slip surface and shock resistant. It is this touch of color that gives a point of distinction to Toshiba STOR.E PARTNER in a sector, the hard drives, which highlights not just for the originality of the designs.
The drive is available in various capacities ranging from 500 GB to 1 TB. It should be take into account what are our real needs of storage before deciding on one option or another. Although it seems that in storage the more the better, sometimes it may be an unnecessary investment. To get an idea, in 500 GB capacity could store 100,000 photos from our camera, 38 hours of HD video or 125,000 songs in MP3 format. Perhaps with this we have enough to meet our needs, without having to choose a greater size.
The equipment has a pre-installed software Nero BackItUp & Burn Essentials. Thanks to this, it can lead to automatic backups ends of the data, to provide greater protection to the contents stored therein.
The hard disk has a limited size of 119 x 83 x 14 mm for the 500GB model. The size grows very slightly for the 1TB model, reaching 17 mm deep. The weight is 160 grams for the 500 GB model, while the higher capacity model reaches 195 grams. It's a little larger and heavier than the mobile phone generation that usually pass through our hands, and there is little problem in your pocket.
The Toshiba STOR.E PARTNER already available in some stores and through the website of the brand. Its price ranges depending on the dealer and the ability to choose, but start from around 90 euros in most cases.