Web hosting is the dedicated space which includes the website for publication on the Internet.
Types of web hosting that can be considered are:
Free shared web hosting:
Many companies offer free hosting, some as an extra to a contracted service (such as internet companies) and others in order to display their advertising through a banner. It tends to be used by personal web pages, even some companies and business people use it, but if you want to go seriously with the web page it is better to invest a little to have a more professional and without external advertising space.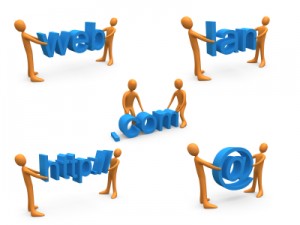 Shared web hosting:
It offers a limited space to host the web page. It is the most economic option since it is possible to choose according to the needs. Usually make a payment based on space and the monthly transference that is selected. If it is needed later "something more" it is possible to change the accommodation plan into the top one or bear in mind other options.
Dedicated web hosting:
It is the most attractive option for certain companies, since you have your own server and can handle as you want, there are no neighbors or web people that may limit the opportunities of the server. It is especially interesting for web pages that require many resources or e-commerce. The price tends to be quite superior and there are many options on the market according to the capacity of the server.
Virtual servers or VPS:
It is a partition within a server that allows multiple virtual machines within the machine is enabled for your control by means of technologies, taking an operation very similar to the virtual servers but more limited, for those who want the benefits of dedicated servers to more affordable prices.
Housing
It is very similar to the previous option, although it is a own server that is located in a corporate data center using internet connection and infrastructure. It is a specially designed option for large businesses that need greater demands and more safety.
To choose the best hosting that adapts to the needs should take into account the amount of domains that are going to host, which deals with the web page you will be accommodated, the estimated traffic and budget with the account. Once they are offerings that can be adapted to what is needed to compare and find recommendations of friends or by internet, taking into account that these recommendations are real and not mere advertising.
According to the needs of each individual can be recommended to use one or another type of web hosting, knowing that many more higher requirements are the needs and also, as a general rule, more what you need to pay for it.