So looks the new series of mini desktop Chrome Box computers.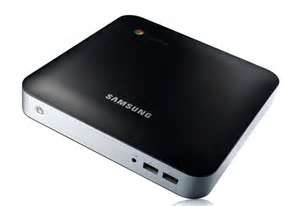 Is it a bird? Is it a plane? There is a Chrome Box. It's that simple. It's minimalist. And starting with that gives will not take much of Cupertino to revive the issue of the demands now in this case by the desktop computers in miniature version. Still, today we will put aside the feud between the two giant and focus on the gadget itself, the Samsung Series 3 Chromebox.
In addition to the new design of the Samsung Series 3 Chromebox, there are important features to take into account that have come with its update. So you get a 1.9GHz Intel Celeron B840 processor, Intel HD graphics, 4GB DDR3 RAM and 16GB flash storage. In terms of connections, highlight itself for headphones and two USB ports on the front hidden under a cover.
The back of the Samsung Series 3 Chromebox also has several inputs, including four USB ports, two display ports, Ethernet, DVI, switch and vents.
Perhaps most interesting is the price of this computer, which really love its design has already exiting $329 in the U.S.